Transylvania is notoriously famous to be the place of Count Dracula. The place is always mentioned in horror movies depicting vampires and evil creatures. But what exactly is there in Transylvania? This Romanian region is far from the horror depicted in tales and films because in reality, it's one of the most picturesque place in Europe. A mix of medieval charm and wild natural beauty. Here are the top 5 places to see when you happen to visit Transylvania.
BRAN CASTLE
This medieval fortress is said to be the home of Count Dracula in Bram Stoker's tale. This beautiful castle is full of mystery and intrigue from yesteryears, and unsurprisingly it is the most famous landmark in the whole of Romania, and the most touristy, too.  Now, this part of Romanian history is a museum that displays the art collection of Queen Marie.

PELES CASTLE
In a country full of castles, Peles Castle may not be the most popular but it can certainly be argued as the most beautiful of all. This Romanian Castle is like a palace straight from a fairytale movie with the Neo-Renaissance style intricately detailed both inside and out. The scenic backdrop of this little village of Sinaia was what King Carol I fell in love with and right then and there decided to construct his castle on that spot.
TRANSFAGARASAN HIGHWAY
Tagged to be "the best driving road in the world", its twists and turns and breathtaking views of Carpathian Mountain Ranges are enough reasons to agree that this is indeed a driver's paradise. This paved mountain road is a challenging drive for riders of all kinds of vehicles (and even hikers, too), with its sharp uphill climb, hairpin curves, steep downhill and long S curves.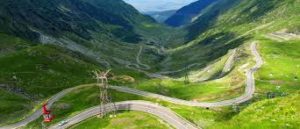 SIGHISOARA
This charming city in Transylvania region is a picture perfect place full of colorful architecture and bursting with Romanian culture. This is the real birthplace of Vlad the Impaler, the inspiration of the fictional Dracula character. This attractive town has a lot of picture worthy places with its cobblestone streets, small art galleries, pavement cafes and pastel-colored buildings; an Instagram haven.
TURDA SALT MINE
Visiting the world's deepest underground amusement park is a must-see place when visiting Transylvanian region. This enormous salt mine was dug during medieval era and now serves as a museum and an amusement park, 400 feet below the ground. The attraction includes a Ferris wheel, mini-golf course, spa, sports centers, and a boating lake.